(A41) Various stories archived
---
Master Plan Supporters -
July 2009 APPROVAL - HAS ARRIVED
Crystal Palace Park, after so many years in the preparation, will have a 'new life'. Remember that this is an outline application so that the design and financing and consultation will start up again but this time it will centre around real change.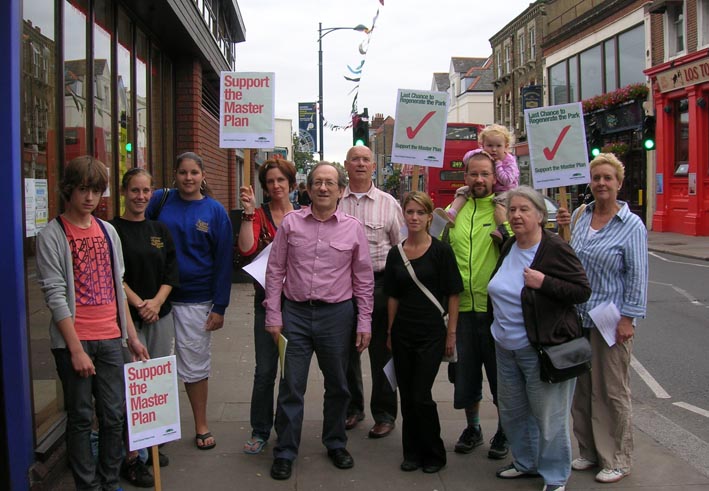 Master Plan supporters outside the Inquiry hall - July 2009
---
Today in the park - 9th April 2012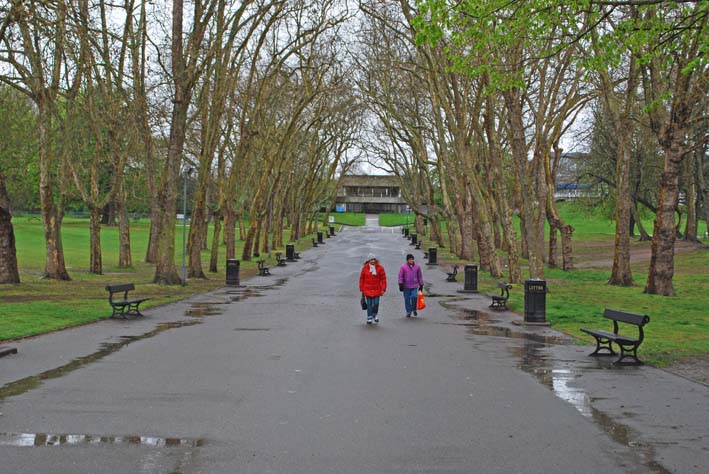 Park News in pictures....
Today, 9th April 2012...a throroughly wet day in Crystal Palace Park, around 3pm. This view of the Paxton Axis walk doesn't exactly show a teeming crowd jostling for a space on this grand avenue. However, lurking to the photographer's right is a freshly painted information centre, functioning toilets nearby and, far ahead, a very spruce Paxton bust (newly cleaned). Credit to Bromley Council for keeping good works, although on a small scale, going....
Hopefully, after the Judicial Challenge verdict is announced tomorrow (we've been told), good works may be able to move at a faster pace.
---
Super New Ticket Office - Crystal Palace Station - September 2012
---
COMMUNITY STAKEHOLDER GROUP
---
PARK NEWS(April 2012)PAGE.....

(to N51)
- Olympic Torch in the park
- a clean Joseph Paxton
- a clean Information Centre
- Museum works
- Crystal Place Station works
.....and some pictures.....
---
Master Plan - news and links
MASTER PLAN
Path of Approval

See the time-line
with latest information
and links

Application to negate the Master Plan FAILS.

In the Court of Appeal today (Tuesday 23rd April 2013), the CPCA put their challenge to the Master Plan in front of Lord Justice Laws (chief), Lord Justice Lewison and Lord Justice Mccombe. The two remaining grounds on which the judicial review was permitted were rejected by the court (all three judges concurred) and the legality of the Secretary of State's action in signing off the Master Plan was upheld. The court also refused a further appeal to that court. The next recourse for the appellants could, in theory, be the Supreme Court. The Master Plan, therefore, stands and could be utilised immediately if Bromley Council is so minded.
---

5/11/13 Last Updated 5/11/13