(L.47) Crystal Palace Park - THE INQUIRY - DAY 1
Crystal Palace Park Inquiry
Started 10 am sharp at the Salvation Army Hall, Westow Street - Tuesday 7 July 2009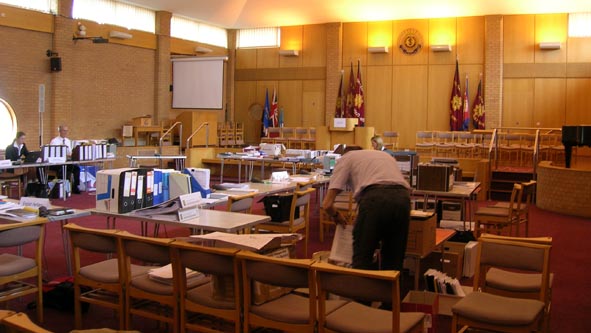 LUNCHTIME BREAK.......
This note is a general summary of the happenings on the first day of this Public Inquiry into the Master Plan for Crystal Palace Park. In fact it covers three linked planning applications and includes listed buidlings consent and conservation area consent - see the Master Plan one-stop-shop page.
The initial discussions were largely about procedural matters; confirming the main protagonists for all parties; witness and cross examination timing; the order of appearances - then the opening statements by
LDA - Richard Ground
London Borough of Bromley - Tim Comyn
English Heritage - Mike Harlow
Crystal Palace CommunityAssociation - Robert McCracken QC
Residents of the North Side of Anerley - Steve Sawko
Joseph Paxton Society - Alastair Cameron
Sport England - James Strachan
- outlining the arguments they will bring to support their cases. This was useful in understanding the way the Inquiry debate would proceed with the supporters first and the against lobby afterwards.
"The Case for the Applicant", the London Development Agency, was started with Richard Ground taking Ms Johanna Gibbons* through the "Landscape - Evidence in Chief" which will be concluded on the 8th (Wednesday) before being cross examined.
The importance of considering Joseph Paxton's legacy was examined. He developed the concept of the central axis which changed nineteenth century park design and influenced designers since the Leisure Gardens on Sydenham Hill were laid out in 1854. In adding the dinosaurs to the lakes at the 'bottom' of the park he managed to create a conceptual journey from the very old all the way to the sophisticated (civilised) fountains and finally glass palace at the top of the park. This has been recreated in the Master Plan biut by using trees instead of glass. The thought of re-creating the Crystal Palace has no place in this modern new design where green, formal spaces will signify a modern way of thinking.
Jo's comments (the full Proof of Evidence is on the Inquiry website) on the need for a Master Plan at all, highlighted the importance of having a comprehensive vision which would enable change to take place over the years. The Master Plan was a "fundamental instrument to allow the incremental delivery of the wholistic view." The lack of such a plan would simply repeat the failures of the past where a bit-by-bit approach has led us to the current situation. She also believed that the LDA are the most appropriate organisation to deliver such a scheme.
---- the evidence will continue tomorrow.
The timetable will be updated regularly as events speed up or slow down, but the latest version can be seen here (Persona no longer maintain this facility)

Link to Inquiry website (Persona no longer maintain this facility)
---
Chris Banks is the Programme Officer

Post:
Persona Associates
West Point
Springfield Road
Horsham
West Sussex RH12 2PD
Tel: 01403 253148
Fax: 01403 217790
Mobile: 07817 322750
Email:
chrisbanks@personaassociates.co.uk
*(a chartered landscape architect and the founding partner of J & L Gibbons LLP, established in 1986 and registered with the Landscape Institute since 1989)
---

Top of Page; Go to Legal Index;

7/07/09 Last Updated 7/07/09;18/6/13