(E7) National Sports Centre - Refurbishment Site Visit April 2009 - update & opening!
by Ray Sacks Crystal Palace Campaign (visit 22 April 2009)
---
The swimming pool has been transformed from the biggest scaffolding structure in Europe (take a look at my picture report of May 2008) to this inviting picture..... Crystal clear water, Olympic size lanes, Olympic standard touch pads for timing and a smart score-board. The Grade II* listed building is about to embark on a second lease of life. The similarly listed diving boards have also been restored to their original condition. They are not quite able to handle synchronised diving since their listed status prevented such alterations, at least permanent ones, for now.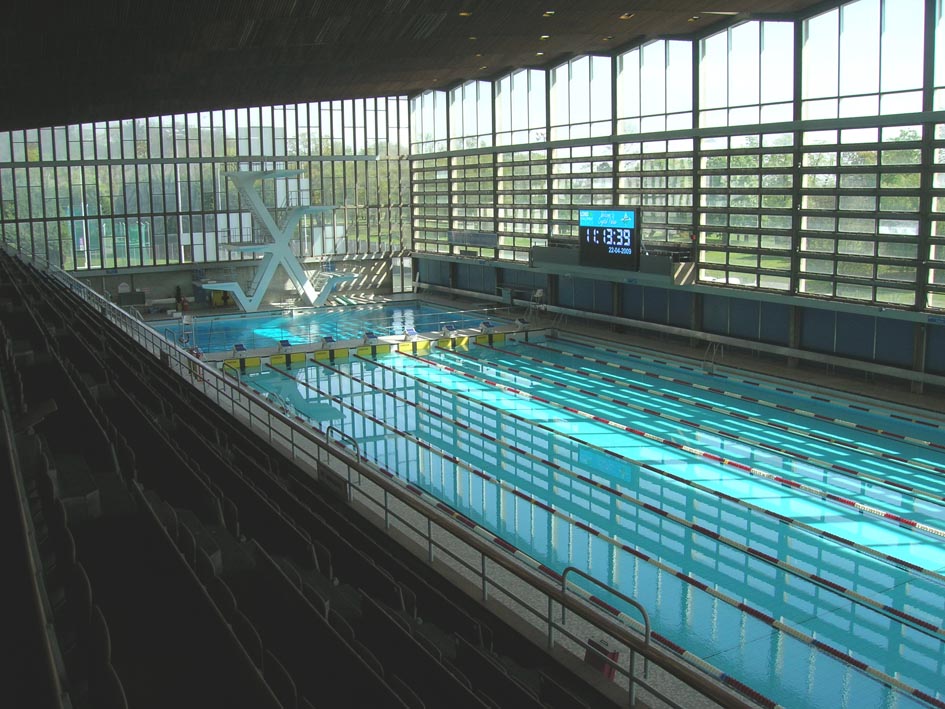 Main swimming pool - seating for about 2000 spectators
A small party of eager visitors (local community organisations and sports managers) was taken to see where the £17 million of refurbishment had been spent. Our guide was Tony Wallace, Regional Manager for Greenwich Leisure Limited (GLL), a not for profit organisation, who run the NSC. He was very enthusiastic about the improvements which have been brought about and obviously pleased to be showing us a building in its last phases of recovery - for when it closed down it could not be used unless the substantial refurbishment programme was taken on. The LDA, who put up most of the money, are to be congratulated for sticking with it even when more substantial problems were uncovered as the work progressed; such as much more asbestos than was revealed in the initial investigation.
Tony was also pleased to announce that (most of) the NSC would open at 2 p.m. on Thursday 30th April (2009). "There won't be any fan-fares just yet" he said, that will come in May just before the real season for athletic events begins. A full list of exactly what is open and when, as well as athletic events lists, is available on the GLL website.
Recent history of the NSC really came to a head early in 2004 when the lease held by Sport England ended and they decided not to renew it. All future bookings were stopped and it was feared that it would be closed down permanently since the building had manifest problems - not the least of which was that the filtration and heating plant was very unreliable and kept breaking down. Outside the NSC, its neighbour the athletics track was in dire need of repair. That was when the LDA took up the challenge and provided the finance to refurbish the track (about £2 million was spent then). The NSC re-opened, the customary summer events were held. GLL leisure was given the task of running the centre and it soldiered on with recurring infrastructure problems until it was closed to the public in September 2007 when the work of refurbishment began.
| | |
| --- | --- |
| | |
| Training pool end | Grade II* listed 10m diving board |
We were fortunate in having the sun shining through the cleaned glass and really illuminating the water to its very depths. On the subject of illumination, all the lighting (and wiring) has been renewed providing not only a properly working system but also improved controlled levels of light up to 500 lux - the original system only provided 50 lux. Although sometimes the sunshine can be problematic - causing glare - there is no real means of control in the main swimming area. Some remnants of an absorbent film remain on the topmost glass which are difficult to remove and will probably remain as they are for now.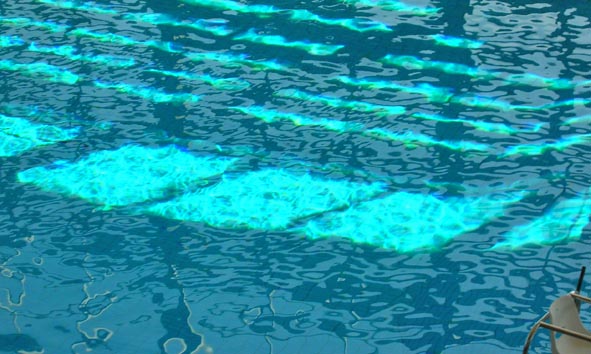 And souls that cry for water
Cool, clear, water
(Bob Nolan 1936)
There is a better means of glare control, using blinds, in the main hall where the glare must be eliminated for some sports. The entire floor has been replaced in the main hall and has embossed markings. These can be a bit confusing because they are meant to accommodate so many sports, but I am assured that the players know which to use. This will soon be put to the test after the opening. Evidently for some sports which hire the main hall, they bring their own removable floor with them, markings and all. The old practice of using insulation tape markings, necessitated by the original floor design, is a thing of the past. There is a new P/A system in place and individually remote-controllable blinds.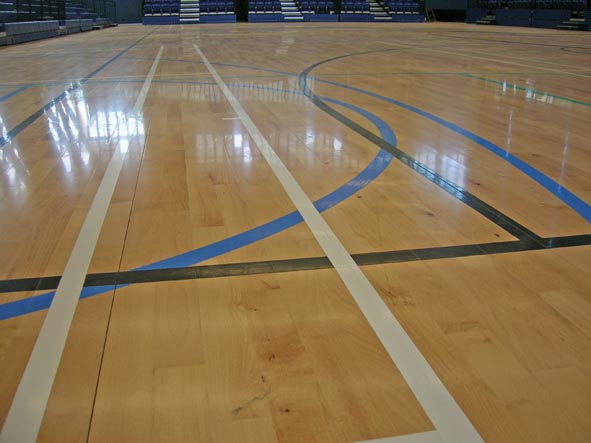 Floor - main sports hall
| | |
| --- | --- |
| | |
| Main Hall - brand new seating on easily retractable tiers | Workman putting the final bolts in place for the in-between seating steps |
Walking through the main arena, took us to the three main rooms (G3, G2 and G1) on the ground floor used, in the past, for a variety of activities, including weight lifting, dry diving training and dance. New floors were in place and the rooms redecorated.
| | |
| --- | --- |
| | |
| Room G2 - completely new floor and decoration; punch bag brackets still in place - Room G3 can be seen in the reflection (green floor) where some of the dry-diving hooks and brackets are still in place | Room G1 - Tony Wallace, our guide from GLL, talks about the new sprung floor and special acoustic tiles to improve the acoustics particularly for dancing music |
Some of the range of sports on offer can be seen on this new signpost - new design and generally brighter new decoration to set it off and improve interior visibility along the formally very dark and dank corridors.

We discussed the events about to take place - for example:

Saturday 25 and Sunday 26 April 2009 : the British Tetrathlon Championships - taking place as I type; fencing, swimming, shooting, running, combined shoot/run....(the first event to be held after the refurbishment) .

Sunday 31 May 2009: Triathlon - organised by the Crystal Palace Triathletes (CPT) "The race comprises a 750m swim in the 50m pool at the National Sports Centre, cycle nine laps of a closed circuit within the park (closed to traffic!) then run two laps around the park, finishing in the renowned athletics stadium."

The building has been made fully DDA compliant. There are lifts to all levels with some fairly complex double door arrangements and controls (not seen by users) to all the level stopping points. VERY important are the completely refurbished changing rooms - these are the ladies' arrangements:
More Ladies Change Rooms...(and one for the men)
| | |
| --- | --- |
| Wash basins | Changing cubical |
| Hair dryers | Men's Changing room |
THE PLANT: Boiler Room, Air Handling and Pool Filtration
| | |
| --- | --- |
| New sand - refill sand filters with 700 tonnes | New wiring |
| New pumps and pipes | New valves - reuse of some original piping |
| New automatic water dosing system | New pipe insulation and control panel |
| Refurbished calorifiers (heat transfer to water) | Refurbished main boiler (oil fired) |
Final pictures...
Lane 2 - Olympic starting platforms

Olympic touch pads

The swimming arena

Diving School

Last minute cleaning

Last minute gap sealing

WELCOME IN
---
Top of Page
Go to Report of May 2008
Return to Environment index


26/04/09 Last updated 26/04/09;1/06/09(listed details corrected)