(N72) Sunday Politics London BBC1 (TV) - 23 November 2014
1145: ZhongRong Development at Crystal Palace Park
Interviews, news and opinions (10 minutes).....presenter Tim Donovan
In the studio
Mark Field MP - Conservative, Cities of London and Westminster
Steve Reed MP - Labour, Croydon North
Steven Carr - The leader of Bromley Council

Sunday Politics London
23/11/2014
London: 1135 presenter Tim Donovan
==========================
Verbatim text...........
Tim Donovan
A year ago in a marquee London's mayor stood alongside a Chinese millionaire and announced that crystal palace was to be rebuilt faithful to the original which was destroyed in a fire but with fine dining and conference facilities thrown in so how much has been happening…
| | |
| --- | --- |
| ZhongRong Developer - Mr Ni | Crystal Palace Park - Exclusivity zone |
Andrew Cryan reports

This was meant to be the vision a rebuilt crystal palace replacing the famous monument that burnt down nearly 80 years ago. The plan was launched last October when the Mayor of London, the leader of Bromley Council and Mr Ni from Chinese development company ZhongRong posed for photographs and exchanged warm words.

Mayor of London, Boris Johnson

So incredibly exciting this morning that Mr Ni has come forward with a brilliant, original and simple vision.

But a year on from that big announcement there are now some pretty serious questions being asked about what lay behind all that fancy CGI and the hype.

Not least, is it actually a plan to rebuild the crystal palace at all? According to the Chairman of the Park Community Stakeholders Group, locals were quickly told that it wasn't clear what the new building would look like at all.

Martin Tempia Chair Crystal Palace Park Community Stakeholder Group

The proponents of the development were actually saying... of course it would look nothing like the original Crystal Palace. You can't rebuild that structure - it wouldn't comply with a single modern building regulation. We don't know how big the thing will be, we don't know what it will house, we don't know the principle purpose of the building, we don't know what it's going to look like.

There are questions too about the deal signed by the Chinese developer, with no public competitive tendering process they entered into an exclusivity deal with the council whereby Bromley promised not to deal with any other company over an area that covers almost half the park (illustrated). Some local campaigners wanted to know why all other organisations have been excluded.

Robert Gibson, Local Campaigner

In my day job I do real estate PR and this is totally not the normal practice. And I say... why weren't Land Securities, British Land, American or Japanese companies - why wouldn't they be allowed in. I think that the whole procurement tendering process was all done behind closed doors.

But the help being offered to the Chinese could go further than that. The development would require a change in law which Labour are saying the developer is being offered special help with.

Val Shawcross Labour, London assembly

The top site at Crystal palace park is very tightly protected by law in fact there's a separate acts of parliament that restricts the amount of land which could potentially be built on. What we've been told by the mayor's staff is that they would intend to actually seek an amendment to the act pf parliament to allow the zhongrong development to spread much more broadly across Crystal Palace park.

Beyond just the fact that the project can't legally be built there seem to be other obstacles and delays. A planning application was originally said to be arriving this autumn but hasn't and this week the mayor cast doubt on whether the scheme will even happen.

Mayor of London, Boris Johnson

It caught people's imagination though there is some concerns about the deliverability of the project.

But surely there are serious questions about the future of Crystal Palace. A separate plan to redevelop the National Sports Centre on the other side of the park is under way. But the combination of the two means great uncertainty has now replaced a previously existing strategy for the park which had been assembled at great expense.

Darren Johnson Green Party, London Assembly

There was a master Plan in place it was put together by the previous mayor, Ken Livingstone, and then defended by this mayor, Boris Johnson, through the judicial process. That is the formal plan for the park but it has just been cast aside.

That master plan had cost the taxpayer millions of pounds to put together and sign off. The accusation is that by rushing to accommodate a poorly worked out scheme fraught with difficulties the mayor and Bromley council may have wasted those millions. [report ends]

Tim Donovan [in the studio]

TD [faces SC]: Well Steven Carr joins me now who's leader of the local council, Bromley, welcome to you - bring us up to date…what's happening with it?

Steven Carr - Tim Donovan - Mark Field - Steve Reed

SC: Well things have been slow this summer but they are picking up now - we have been in touch with the ZhongRong group. They've just reengaged solicitors that we can work with, they've just reengaged Arup as a partner so we can progress this development which I think is potentially a very exciting development for south east London and Bromley, obviously, particularly. So we are moving now, the biggest stumbling block I think, to be honest, is the… is arranging a land deal that both the London borough of bromley can be happy with protecting the interests local residents and of course what the Chinese can be happy with …
TD: …is that why it's just gone quiet because they thought you'd just be able to give them much more land than perhaps you've been prepared to give…
SC: Not just the amount of land but quite simply we weren't prepared to see this development happen at any cost without protecting the rights of local people. They feel passionately about the park and I think through cultural differences the Chinese were unable to see what we can deliver legally here - being supportive as we could. We couldn't just hand over the park until we've seen a proper business case… until we could see it would actually develop and be sustainable.
TD: So this is all crucial then - do you think they've gone cold on the idea now because they can't just have the park and do what they want with it?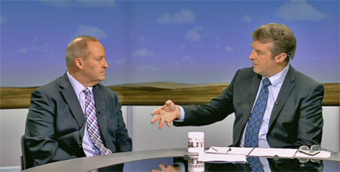 SC: I don't believe so. I'm not sure how your colleagues here today… whether they've met Mr Ni or not. I've had the benefit of meeting him and his advisers on a number of occasions and I believe him to be sincere and I believe if he still wants to do this, it can be done and we're …optimistic may be taking it a bit too far, but keen to work with them, between now and when the exclusivity agreement ends in February, to be able to deliver this plan. It's hugely important for South London.
TD: do you think its right to go in with them as some sort of favoured developer - we heard the criticism of them made - you should have take this up with other people shouldn't you? We are going to be waiting on the whim of a Chinese developer.
SC: Let's not forget that the borough had opened it out some years ago with zero interest. One or two local groups were keen to get involved but with no real potential. But when a gentleman comes forward with a £500 million cheque £100 million pounds to benefit the open realm of the park, one can't just ignore it and they were the only game in town; and, rightly or wrongly, they have that exclusivity agreement now until February of next year.
TD [faces others MF, SR]: So you agreed that part of your constituency touches part of the site or whatever and …have any concerns what's going on here?
SR: First of all we can't just allow wealthy developers to come along and buy London parks to build profitable developments on for themselves we heard from Robert Gibson in that piece just now that local people haven't got a clue what's going on so they can't engage with it. We don't know how big the development will be, how much of the park it will take up, what the impact will be on local transport infrastructure - how will people get to and from it will it be complimentary or would it compete with local shops and businesses .. none of this information is available we just do not know.
TD: What you've heard there from Steven Carr is that we haven't got the information yet.
SC: That's fairly disingenuous - the local residents have been kept informed - the work that we've been doing with the representative groups up there… I think are very supportive of what the council have done. I think we have identified that we're not giving away public park land and we've said no to them. That's why we haven't progressed any further up to date. But if they are prepared to play by the rules and the legalities as we see them then we can negotiate and get this really exciting development - [it] will not be important only for Bromley but the whole of south east London.
TD: [to SR] Would you turn your nose up at £500million pounds from a Chinese investor?
SR: Neither Steven nor the mayor of London have been able to give the kind of detailed information that local people need to be able to express an opinion on.
TD: - not yet, no -
SR: We don't know if this is a genuine runner or is another mayoral fantasy like Boris Island.
TD: Nobody's been able to do it for years though, have they? we've just heard from Steven that nobody's done anything with the site for years - they're not out of the game yet are they? They're having to negotiate.
SR: I think private details in hotels in Beijing, which seems to be where this particular proposal comes from, is not open enough to allow alternatives to come forward that might have been better.
MF: But Steve in fairness look at what happened at Battersea Power station where we've had a number of false starts over 20, 25 years or so. I think it's quite legitimate that Steven Carr's got an exclusivity deal. That will expire in February and who knows we may be back in February/March next year and say that…[talking over each other]
SC: But that was an open tender, I was involved in that…it was a real open tender…
MF: I understand that..I guess the other thing I'd say is … you might say that representing central London I have no interest in this at all but, of course, the old Crystal Palace was in my old constituency (SR: some time go) some time ago we had essentially a bare site for almost 80 years since the great fire. And I think the real issue now … I think this is a very important piece of south east London infrastructure, huge area, one hopes actually we can get some legality changed going forward but I think that the mayor'll have to be involved and probably all the other boroughs all five of the boroughs who're involved in that area have a piece of the action.
TD: Let me ask you this Steven [Carr] we've seen concerns raised elsewhere [by] other broadcasters recently about other developments in the east end, Albert Docks - we have them here, we have them bringing their investment to the south bank … Vauxhall and parts of Battersea. Does it make you a bit worried about this really .. you talk about this… you can't turn your nose up at £500 million . But there are problems here aren't there? Looks like it could be more trouble than it's worth.
SC: No I don't think I agree with that at all. I'm .. there will be problems. There will be, all the way through - for several months maybe years to come if we're going to get this development going on. But, no, I think we must explore it given an opportunity and what has been talked about elsewhere is certainly not the case in Bromley and I resent the fact that its been suggested that deals have been made elsewhere - it isn't the case. I've been involved all the way along. We've been transparent with the local people all the way along and we'll continue to be that so we can deliver it.
MF: We've got that infrastructure in place - with London overground in place which really makes it a great site..

TD:… on that note..thank you all very much indeed.
-----------------------------

Top of page; Back to news index;


25/11/14 Last updated 25/11/14