(A31) Seasons Greetings December 2009 - January 2010
(Archive)
---
All the very best to you and your families
for the new season

New year brings expectations that there will be movement in the Crystal Palace Park - Master Plan Inquiry saga. The promised completion date* is 10 July 2010. Hopefully a favourable response will lead (at last) to the regeneration of the park with its consequent effect on the surrounding areas.
Meanwhile - it is not all doom and gloom...
The NSC, following its refurbishment, is now as popular as ever and the park sports facilities are hosting numerous important events and will carry on doing so with the excellent management of GLL - good luck to them.
Capel Manor, likewise has been very successful with their courses and large numbers of park visitors have enjoyed the animals they look after and their excellent hospitality - good luck to them too.
....Joseph would've been proud!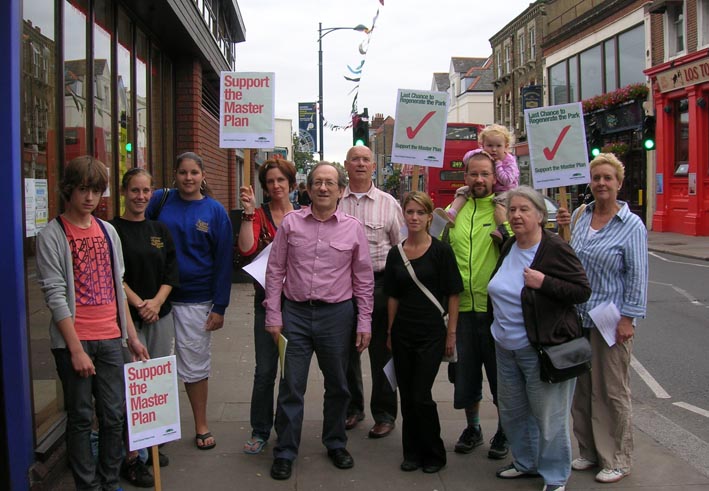 Master Plan supporters outside the Inquiry hall - July 2009
*The completion date has been delayed by about two months (originally set at May 2010) because of the illness of the Inspector Alan Novitzky - we wish him a successful and speedy recovery.
---
Return to Archive Index

8/1/2009 Last Updated 8/1/2009