(N44) CAPEL MANOR COLLEGE - The Croft, Crystal Palace Park, nr. Station Road SE20: visit 2 June 2011 by Ray Sacks

I last reported on Capel Manor College in February 2008 - seems like yesterday! Take a look at that report

.
I thought it was perhaps time to revisit the college's Crystal Palace centre, particularly in the light of a strangely critical article that recently appeared in the bulletin of the Crystal Palace Community Association. This article criticized practices at the college, although without putting its concerns to either the college directly or, apparently, to the relevant regulatory authorities, such as DEFRA or the RSPCA.
Having revisited Capel Manor, I have to say that I am impressed by the progress that the college has made in its first four years at Crystal Palace, and baffled by the criticism, as are the staff. It is worth noting that Capel Manor's Crystal Palace centre has a zoo licence which requires stringent periodic inspections (see note below). The last of these was in January 2011 and a three year licence was issued by DEFRA in May 2011.
But before I report on my visit in more detail, a little background on what I believe to be an important institution and an asset to Crystal Palace Park.
Capel Manor is a specialist horticultural college with a number of centres in Greater London. Among the vocational courses it offers are: Animal Care, Saddlery, Arboriculture and Forestry, Floristry, Garden Design and Horticulture. The last has such courses as a BTEC National Diploma in Horticulture (2 year full-time) and a Foundation Degree in Garden Design ( 2 years full-time or part-time over four years). It also supports apprenticeships, with on-the-job training. For full details, see the prospectus for 2011/2012 academic year on the Capel Manor website

.
Planning permission to open a centre in Crystal Palace was granted to Capel Manor by Bromley Council in April 2007 and the first term with students began in September of that year. In addition to the farm buildings, the college also has a newly refurbished space in the Athletics Jubilee Stand, serving as the college reception centre. This contains teaching and meeting spaces, tutorial rooms and a modern IT suite.
It is obvious from this that Capel Manor is primarily a serious educational institution. But at its Crystal Palace site, it also offers the public the chance to visit its farm and see the animals. In doing this, it has filled the gap left by the closing of the old farm which ran in the park for many years and was much missed when it closed. The provision of the supervised access to the animals was subsidised by the LDA for the first few years and is now, since that source of funds has effectively ended, still being offered free. We can only hope this will continue but, clearly, in these difficult times, funding will come under pressure.
At present, the farm is open on weekdays (except Wednesday) and weekends from 12 noon to 4 pm. The college does not have the resources to open for longer hours, but entry is free; more information about visits is available on the website.
The farm is clearly indicated on all the Crystal Palace Park signage plans:
These signs are all around the Park (arrow shows Capel Manor)
This picture was taken at the Crystal Palace Station entrance (res-5/5/2011)
Apart from allowing casual drop-in visits, Capel Manor also welcomes school parties by arrangement, as you might expect from an institution with an educational purpose.
The website explains that these visits "allow children to see how a city farm runs, meet the animals, learn in a fun classroom setting and see sustainability in action in an enjoyable and safe environment…….A visit to the farm is a great way to introduce children to new experiences, which aide in building confidence and physical skills. Our aim is to assist with the early learning goals that you have to achieve to cover aspects of the national curriculum."
MY VISIT - GENERAL PICTURES
I was delighted to see a large number of people at the farm on that bright Thursday afternoon (2/6/11). It was half-term and there were many curious children enjoying the farm environment, the variety of animals, the views into the Park and the warm welcome provided by the College people, students and teachers alike. I spoke to several visitors – adults and children - and without exception, they all seemed to appreciate their visiting-experience, voicing no complaints and saying how helpful the Capel Manor people were.
These past years have allowed the College to settle in, so the walk around the animal areas gives a sense of permanence - the place is tidy, well kept and shows signs of continuous improvement. There are the beginnings of raised bed constructions, planned to contain mostly vegetables. This will make more of the horticultural side of Capel Manor's activities visible. There is also a desire to provide better greening of the concrete areas. Aspects of the concrete areas have proved to be very practical but, comparing today's with the photographs taken during my last report, the greening is hugely improved.
The 'pens' designed by Kathryn Gustafson and inherited by Capel Manor are very awkward to use and are only ear-marked for general storage not permanent animal enclosures. I believe they are 'listed' and so can't easily be changed.
Here are general views of the principle open space where the raised bed constrcutions are being placed: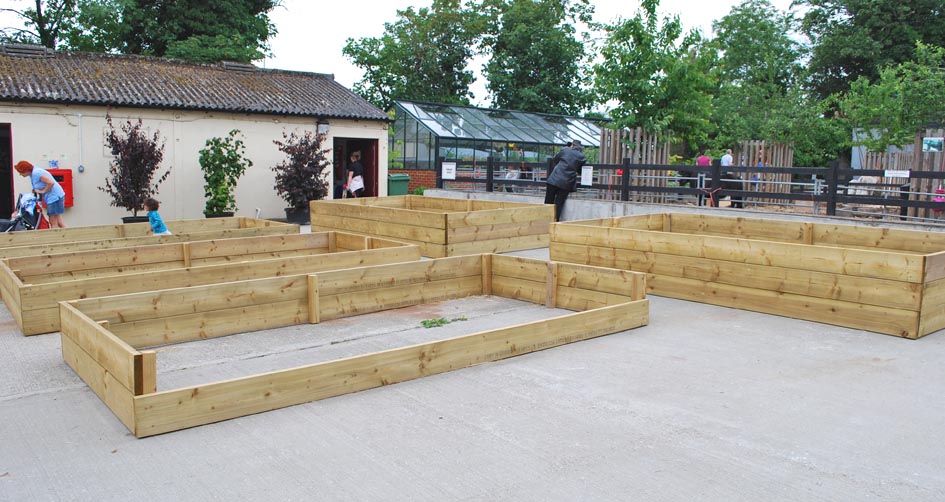 The children (and adults, I might add) came to see the animals (and so did I). Goldie, the Kune Kune pig (means 'fat and round') certainly had grown since I last saw her. I didn't fancy the non-chalant way one of the students went into the enclosure to retrieve a plastic bag. Goldie, and her companion Patches (both females), seemed totally at ease with this. I reckoned that being in the same enclosure as two pigs probably weighing close to 200 lbs. each takes some nerve!
Goldie (on the left) and Patches - it's not easy to get pigs to pose

Meet Comet (its name), a baby alpaca

A typical pub-quizz question is to name the young of a particular species so...what are the young of alpaca called? I have to confess that I couldn't have even said what an alpaca was until this visit. Answer: cria

Comet and mum, Tinkerbel, had just been shawn; the reason for the sheering is simple - in summer, in our climate they get too hot and could even die. They're more used to being at an altitude of 3500 - 5000 metres in the Andes.

Another alpaca factoid -
(Sunday Times 8 June 2008, by Jonathan Leake)

"Charles unleashes his fluffy bouncers" (shortened)

SINCE riding to hounds was banned, the Prince of Wales has found a new way to protect his flock of 450 organic sheep from foxes – four South American alpacas.

The llama-like creatures act as bouncers on his farm near Tetbury, in Gloucestershire, bonding with the sheep, ever ready to protect them against predators such as foxes, which used to kill as many as 50 newborn lambs every year.

Unlike sheep, alpacas happily confront foxes, chase them and try to trample or kick them. And while the prince's staff have not yet found any battered fox bodies in the hedgerows, they haven't lost any lambs either since the alpacas arrived.

This is what an alpaca looks like with fleece - I believe this is a younger Comet (from the Capel Manor website)

Never ending fascination for all ages

Not everybody's cup of tea
There are quite a variety of other animals and creatures for such a small zoo; Shetland ponies, goats and ferrets are included; the creepies include Great African Land Snails, African giant train millipedes, Curly haired tarantula, Leopard gecko and Pine snakes - why do the children love these things? Locusts?

NOTES:
Animal Health - Zoos Inspectorate (DEFRA)
Extract from DEFRA website:
What do inspections cover?

Zoo inspections are required to extend to all features of the zoo directly or indirectly relevant to the health, welfare and safety of the public and the animals, including measures for the prevention of the escape of animals. They will also extend to the zoo's compliance with requirements on conservation and education. Inspectors are expected to refer to the Secretary of State's Standards of Modern Zoo Practice when carrying out inspections and there are inspection forms provided in the appendices to this document and below:

Licence inspection report form
Periodical inspection report form


The Zoos Forum has also provided guidance in its Zoos Forum Handbook on zoo issues such as how conservation and education requirements are assessed.
The DEFRA web site clearly indicates that the practice of keeping animals as enshrined in various laws, hanbooks etc is one taken very seriously by them and its Inpectorate. In fact they also include information on "Reporting suspician of poor welfare" should this be required.
to News Index; top of page LINK: The British Kune-Kune Pig Society [it really exists!]

06/06/11 Last Updated 09/06/11