I was very disappointed indeed to see that Mayor Boris Johnson's regeneration agency - the London Development Agency (LDA) - has reneged on its commitment to take over the lease and management of Crystal Palace Park.
This bodes ill for the future - Bromley has struggled with the demands of such a major park and it is clear that what is required is significant investment and strategic management which an individual borough would find difficult to deliver.

It makes logical sense for the LDA to take over this work and halt the dilapidation of paths, terraces and key facilities. But it seems the new Mayor has different priorities.
I am concerned that more than five years of extensive public investment, hard work and intense consultation on the park's future will go to waste. The key issue seems to be funding for the implementation of the masterplan to refurbish the park.
According to the LDA website, it is seeking to identify public and private finance for the refurbishment; with an emphasis on the private.
The National Sports Centre, which it already manages, is making a loss and the LDA has already indicated unwillingness to invest public money in the facility.
In the run up to the Olympics, I have grave concerns about the Mayor's commitment to an ongoing legacy of sports in this part of south London. Given that the Mayor has already dropped plans to extend Croydon tramlink to Crystal Palace, you really have to ask what he is planning to deliver for Bromley residents who voted for him solidly in last year's election. I hope they will be equally forceful in telling the Mayor they didn't vote to abandon the wonderful Crystal Palace Park and to years of continuing neglect.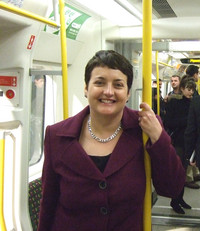 Val Shawcross, on the tube! (see her website link below)